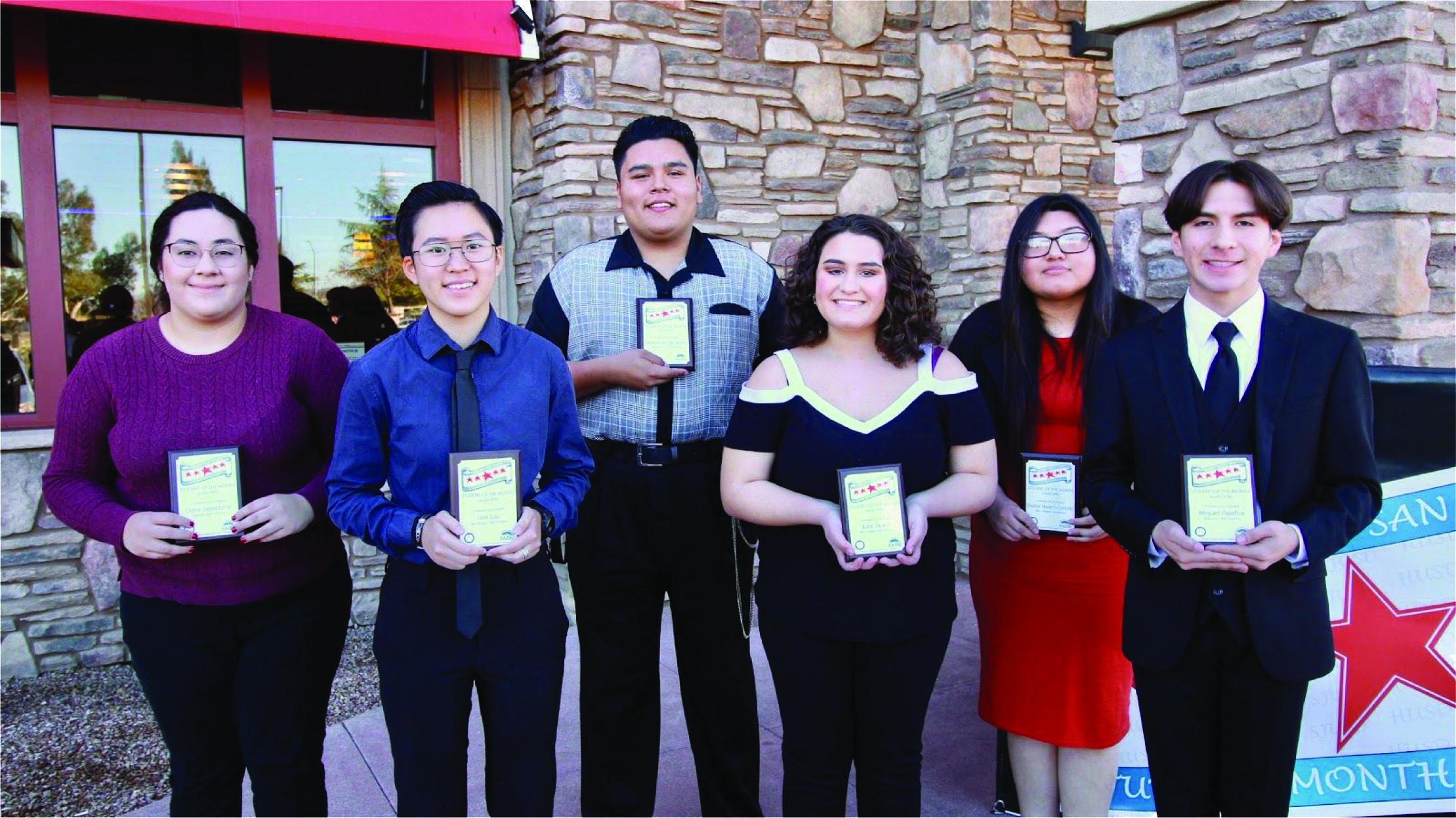 On January 16, 2020, students from Hemet Unified and San Jacinto Unified were recognized as Students of the Month at an awards breakfast held at the Sizzler Restaurant in Hemet. Students were selected from Hemet High School, West Valley High School, Tahquitz High School, Hamilton High School, Alessandro High School, San Jacinto High School, and Mountain View High School/Mountain Heights Academy.
Sponsors of the Student of the Month Program donated backpacks filled with gifts, gift certificates, a plaque, Certificates of Recognition, and much more. The students had an opportunity to thank their families and teachers who have supported them and helped them plan their future life goals.
Daniel Rojas Hernandez was nominated as Alessandro High School's Student of the Month. Corey Borden, Daniel's Advisory Teacher, nominated him for his respectful nature and a newfound dedication to his education. Daniel found himself behind in credits during his high school career and was transferred to Alessandro. Since his enrollment, he has caught up on his credits and will graduate early. He is currently a police explorer and through the guidance of Hemet Police Officers Reyes and McDonough, he plans to become a police officer after attending Mt. San Jacinto College.
Diana Sagastume was selected as the Hemet High School Student of the Month. Diana was recognized for always going above and beyond as a student and treating people with kindness. Diana is currently the Senior Class President, logged in over 400 hours in the Sports Medicine program, a volunteer at her church, a member of the Superintendent's Student Advisory Council, and works part-time at Jack-in-the-Box. She plans to attend a four-year university and pursue a career as a Pediatric Nurse.
Miguel Palafox was recognized as the Tahquitz High School Student of the Month. Miguel was nominated by his English teacher, Moly Otis Cantu for being a humble and phenomenal worker. Miguel always tries to help those around him despite his challenging workload. He plans to attend a four-year university to pursue a career in computer science.
Julia Janeki was chosen as West Valley High School's Student of the Month. Julia was chosen by her art teacher, Dan Morales, for being involved and committed to her education and future plans. Julia is currently a Thespian officer and is in art, theater, choir, and drama. She plans to attend MSJC and transfer to a school in Los Angeles to pursue a career as a cinematic makeup artist.
Congratulations to all the students, teachers, principals, and family members. It was an inspiring morning celebrating these students and their bright futures.